New client consultation - $150
Everyone starts here! Consults can be virtual or in our Pasadena studio. Your esthetician will examine your skin and ask you questions about your lifestyle and past treatments. 
By the time you leave, you'll be educated about what's going on with your skin and what the next course of action is (usually a combo of in-person treatments and an at-home regimen). 
book now
Acne treatments - starting at $225
Targeted face and back acne treatments + extractions to clear your skin and facilitate healing.
Book Now
Chemical peels - starting at $150
We offer a variety of chemical peels, and we will recommend specific peels for your skin. 
Peels could include…
Perfect Derma Peel 
Level 1 Peel
Level 2 Peel
Level 3 Peel 
BOOK NOW
Thrēo h2o - starting at $300
HydraFacial uses patented technology to cleanse, extract, and hydrate. HydraFacial super serums are made with nourishing ingredients that create an instantly gratifying glow in just 3 steps:
1. CLEANSE + PEEL
Uncover a new layer of skin with gentle exfoliation and relaxing resurfacing.
2. EXTRACT + HYDRATE
Remove debris from pores with painless suction. Nourish with intense moisturizers that quench skin.
3. USE + PROTECT
Saturate the skin's surface with antioxidants and peptides to maximize your glow.
BOOK NOW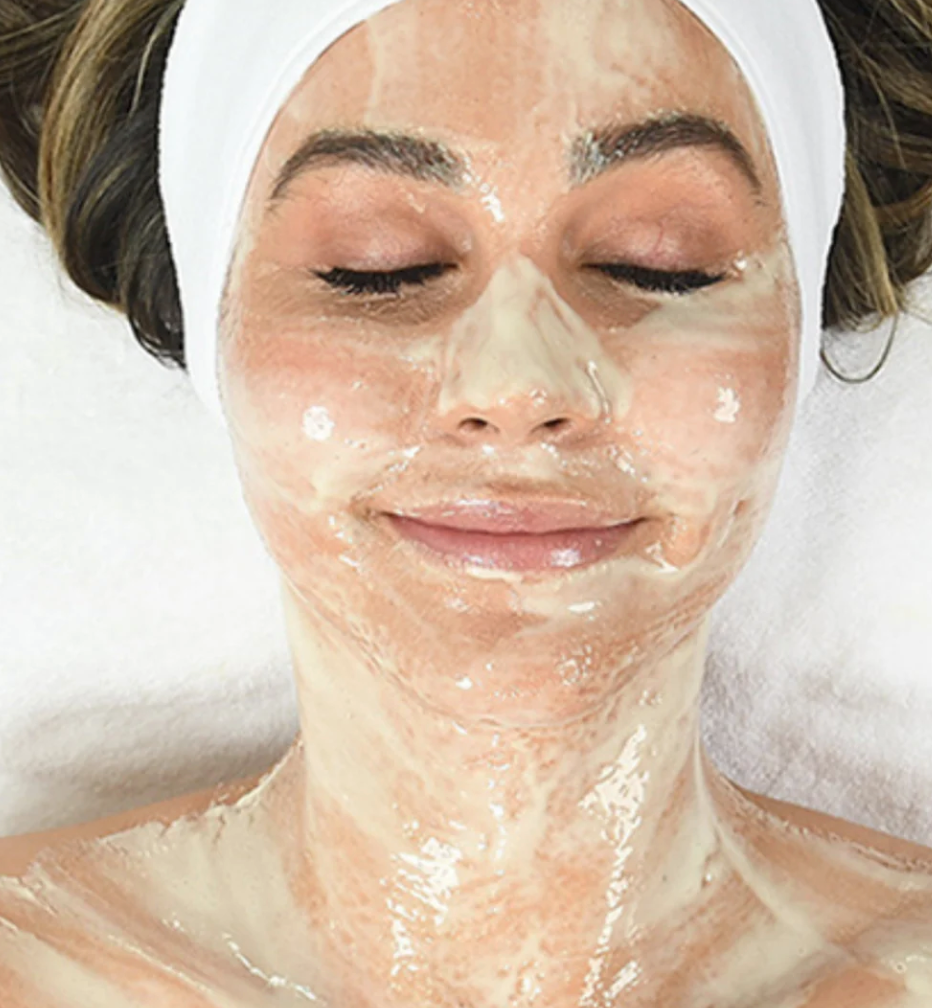 DMK Enzyme Therapy - starting at $400
Restores skin to its peak condition, through 3 main areas:
1. STRENGTHENING
Enzyme Therapy exercises the facial muscles & works to leave the skin feeling firm and toned.
2. DETOXIFYING
All skin needs to be detoxified on a regular basis, and the Enzyme treatment does this through reverse osmosis by using the lymph nodes when the masque is working its magic for 45 mins, you can actually feel it working by a faint pulsing sensation.
3. SKIN TIGHTENING & BRIGHTENING
The DMK Enzyme Treatment is the most powerful, effective method for hydrolyzing dead cell material from the skin tissues, detoxifying the skin of all impurities, toning, and tightening the skin for a firmer and youthful appearance.
BOOK NOW
Microchanneling - starting at $275
Microchanneling is a noninvasive procedure designed to stimulate your body's natural ability to generate collagen, elastin, and other building blocks of healthy skin. 
By stimulating the outermost layers of the skin, microchanneling can help your body start this process without penetrating into living tissue. We follow this 2-step process: 
1. STIMULATE CELLULAR ACTIVITY
A single treatment creates hundreds of thousands of microchannels. In response to each micro-injury, a healing process begins which initiates the formation of new collagen. Over time, the repeated healing process improves the surface texture and the overall appearance of the skin.
2. STEM CELLS ASSIST HEALING
Human growth-factor serums derived from bone marrow mesenchymal stem cells are known to promote scarless healing with minimal inflammation. Application of serums immediately after microchanneling treatment enhances delivery and collagen growth.
BOOK NOW